Il Pecorino Siciliano PDO
The Pecorino Siciliano PDO is manufactured only by traditional methods.
Can it be otherwise? Pecorino Siciliano PDO is the history.

Wathever pecorino cheese is made from sheep's milk, moreover are similar even the production techniques. So, why the Pecorino Siciliano PDO is an unique excellence and inimitable outside the origin environment?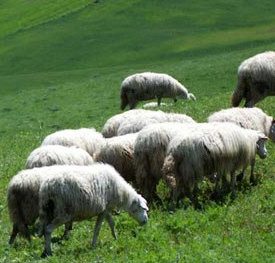 The quality of pecorino depends significantly by animal feeding and by the milk processing methods. The wood remains the best friend of the dairyman.
These factors determine the amount of fat and proteins present, but also vitamins, polyphenols and many antioxidants, which, from the milk, pass to the cheese increasing by 5 times.
But there is more. The sheep's pasture strongly marks the milk, the free grazing diet transfers all tastes and all smells of the sicilian territory to the milk.